Use This Skimmer Plug Chart Below To Find The Right Size Model for Your Skimmer
The AG is for Aboveground Pools
The IG is for Inground Pools
The SD is for Standard Size Openings (Almost Square)
The WM is for Widemouth Openings (Long Rectangle)

The -H Series Fit Hayward and Other Popular Brand skimmers
The -SS Series Fit SkimSaver Lid'L Seal
The -DB Series Fit Doughboy (Includes Vac Port Plug)
The -LM Series Fit Lomart (Includes Vac Port Plug)
The -SW Series Fit HydroTools brand skimmers
The -LH Series Fit RapidFlow brand skimmers
The -PMT Series Fit Jacuzzi brand skimmers
The -WWF Series Fit Jacuzzi brand skimmers

The -H and -SS Series also work as a replacement lid for skimmer closer systems that use snap-on lids that look like Tupperware®. Skimmer Plugs are much easier to use than snap-on lids.
Height is how tall the opening is
Width is how wide the opening is

Remove any decorative covers that might be over the faceplate before measuring and installing your Skimmer plug. Covers hide the screw heads.

---
BELOW IS AN EXAMPLE OF WHAT A STANDARD FACEPLATE AND A WIDEMOUTH FACEPLATE LOOK LIKE
Skimmer Plug™ uses a proprietary foam that blocks water for use in aquatic environments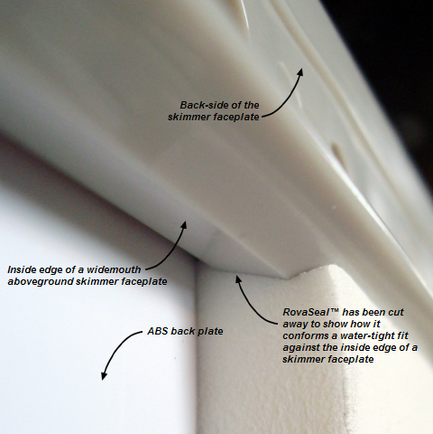 Made UV resistant, chemical resistant. Protects your pool all season long.
Uses Rovaseal™, a 3/4" thick high density foam. Characterized by a compact feel and resistance to water, it can be thermo-formed or compression molded into any shape. RovaSeal™ has many of the same properties as neoprene rubber. Contact us today to learn more about our pool products.
RovaSeal
™ Benefits
Patent Pending closed cell skimmer plug
is freeze and shatter proof
Cost effective
Fabricate to any shape or size skimmer
Non-dusting
Excellent buoyancy
Superb strength, and tear resistance
High shock absorption
Super flexibility Impervious to mildew, mold,
bacteria, superior chemical & oil resistance

---